The pporty side of the Glücksschmiede
Active summer in Saalbach Hinterglemm
A Range of Experiences
Are you looking for action and adventure? A myriad of summer activities awaits you in the breath-taking mountain world of the Glemmtal. From kilometres of hiking trails with impressive panoramic tours over the Pinzgauer Grasberge to the peaks of the Hohe Tauern and bike tours in Austria's most extensive bike region – your summer in Saalbach has it all.
Hiking
Many paths lead to happiness through the Glemmtal hiking paradise. Hiking in Saalbach Hinterglemm through an impressive nature and mountain setting clears the mind and allows you to enjoy it with all your senses. Over 400 kilometres of fantastic hiking paths allow you to find peace and quiet and recharge your batteries. In addition, you have a lot of ways of getting to the most beautiful starting points: for example, the 4 summer cable cars, a hiking shuttle bus or the valley train – all with the Joker Card.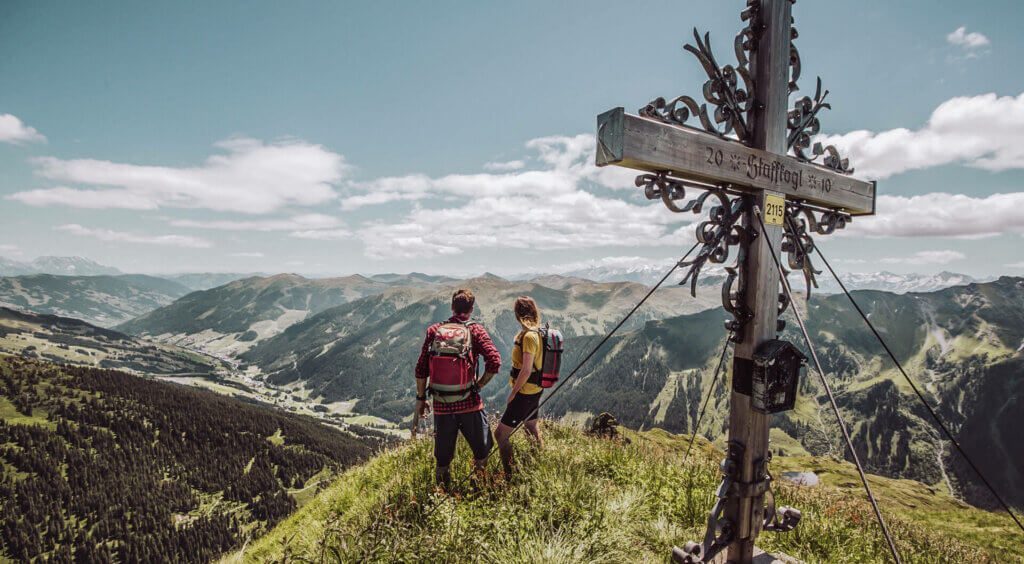 Mountain biking in Saalbach Hinterglemm
A bike paradise for ambitious cyclists!
Biking in the Bike Circus
Only the Saalbach Hinterglemm bike circus offers so many breath-taking courses of all difficulty levels – for cross country, soul riders, free-riders and downhill enthusiasts. 400 km of marked mountain bike trails and 720 km of cycling and biking network in the Saalbach Hinterglemm region, make the Saalbach bike circus exceptionally diverse. It is with good reason that it is one of the leading mountain bike regions in Europe. And, of course, it is also an excellent region for leisurely and family cycling.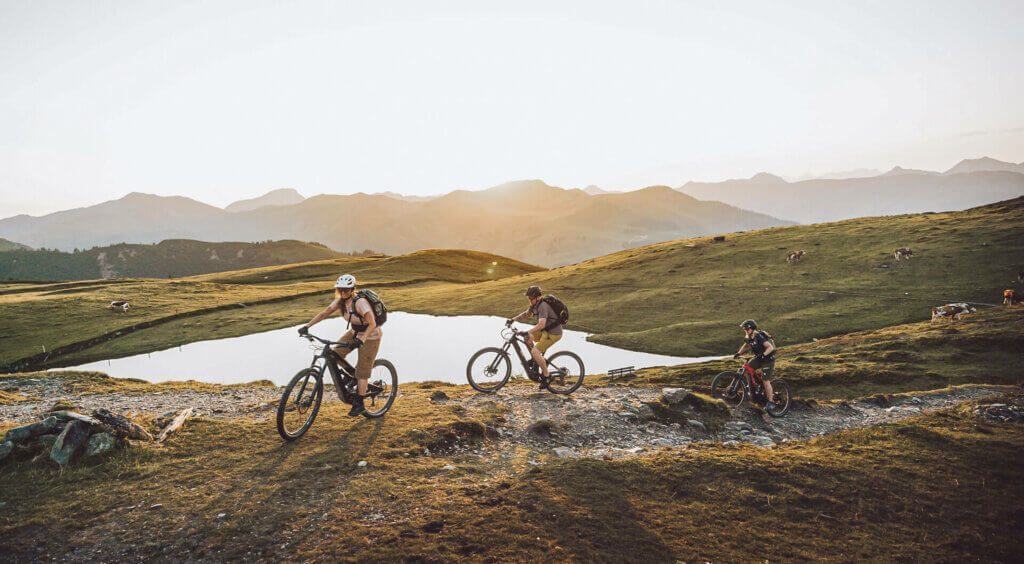 All the bike advantages of the Saalbach Hinterglemm bike circus at a glance:
400 km of marked mountain bike trails
120 km of e-bike tours
720 km of a cycling and biking network in the region
Linked to the 280-kilometre-long Tauern cycle path
5 cable cars for bike transport (approx. 4000 altitude metres)
Marathon stretches
Free-ride and downhill trails with Northshore elements, drops, wallrides etc.
Training course
Pump tracks
Linked to the Bikepark Leogang
Many bike-friendly chalets with wonderful food and service
Free panorama map & 3D bike map on the Internet
On request, daily guided bike tours & technique courses
A lucky deal that will excite all bike fans awaits our guests at our partner Intersport Breitfuss. If you book through Glücksschmiede, you get individual bike adjustments and exclusive online discounts for bike rental. In addition, insider tips, a free bike backpack including a multi-tool kit, pump, tube, first aid kit and lock are waiting for our guests – not to mention special test & buy offers and an all-round carefree package.
Saalbach Hinterglemm in summer
The warm season
Experience something spectacular
Tennis
If you feel like playing tennis in Saalbach on holiday, the Hinterglemm sports centre has 3 outdoor clay courts and 3 indoor courts where you can pursue your hobby. As a guest at Dorfhotel Glücksschmiede, you do not need to pay a court rental fee in summer (Joker Card). The Saalbach Hinterglemm tennis school offers training sessions for all levels.
The Largest Golf Course in the Alps
Just 30 minutes by car from Dorfhotel Glücksschmiede lies the largest golf course in the Austrian Alps. The two 18-hole courses "Schmittenhöhe" and "Kitzsteinhorn" in Zell am See-Kaprun are a true paradise for passionate golfers and potential golf fans alike. Amidst natural biotopes, excellent meadows and surrounded by the breath-taking mountain panorama of the Hohe Tauern, the two golf courses guarantee exciting days out on the green.
Action & adventure in Glemmtal
Adrenalin highlights in the
Saalbach Hinterglemm summer region
ACTION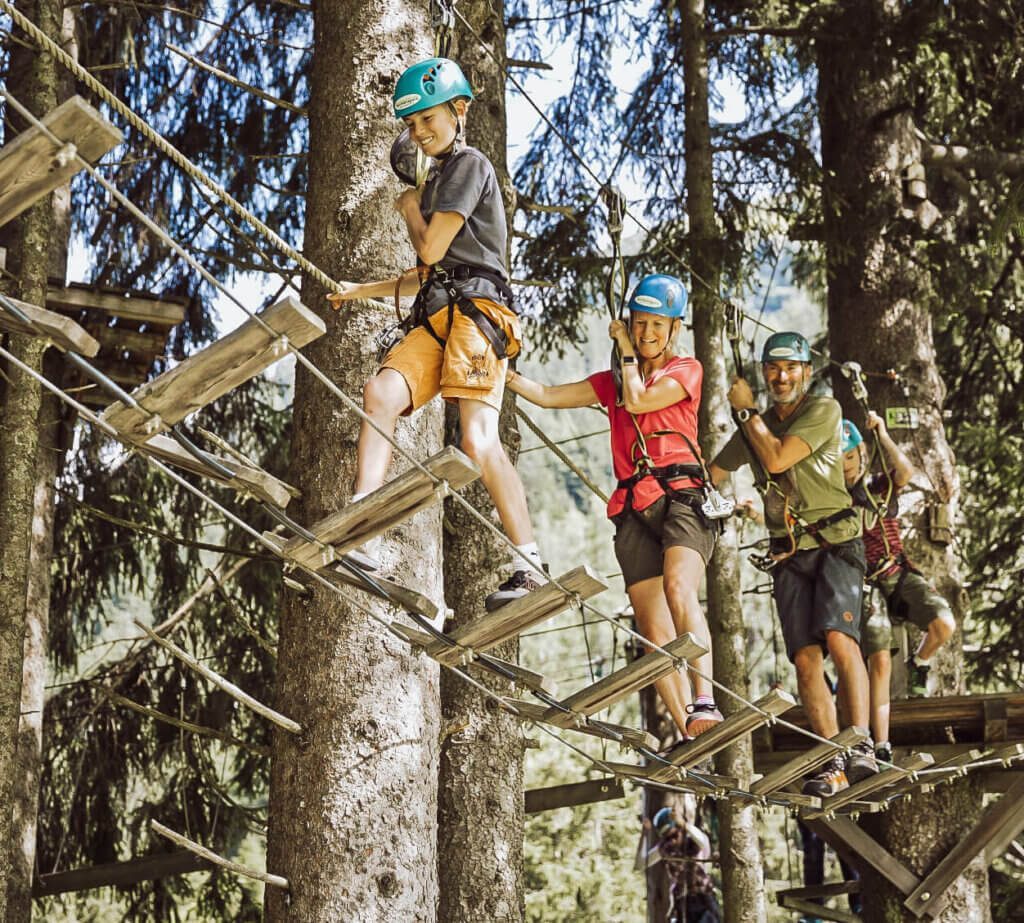 High rope park Saalbach Hinterglemm
The high rope park in Saalbach Hinterglemm is the largest in Austria and offers the longest flying fox line in Europe, with which you can "fly" up to 80 kph through Glemmtal. 200 different stations, 30 flying fox lines and 10 climbing courses at different heights from 3 to 40 metres offer a variety at various levels of difficulty.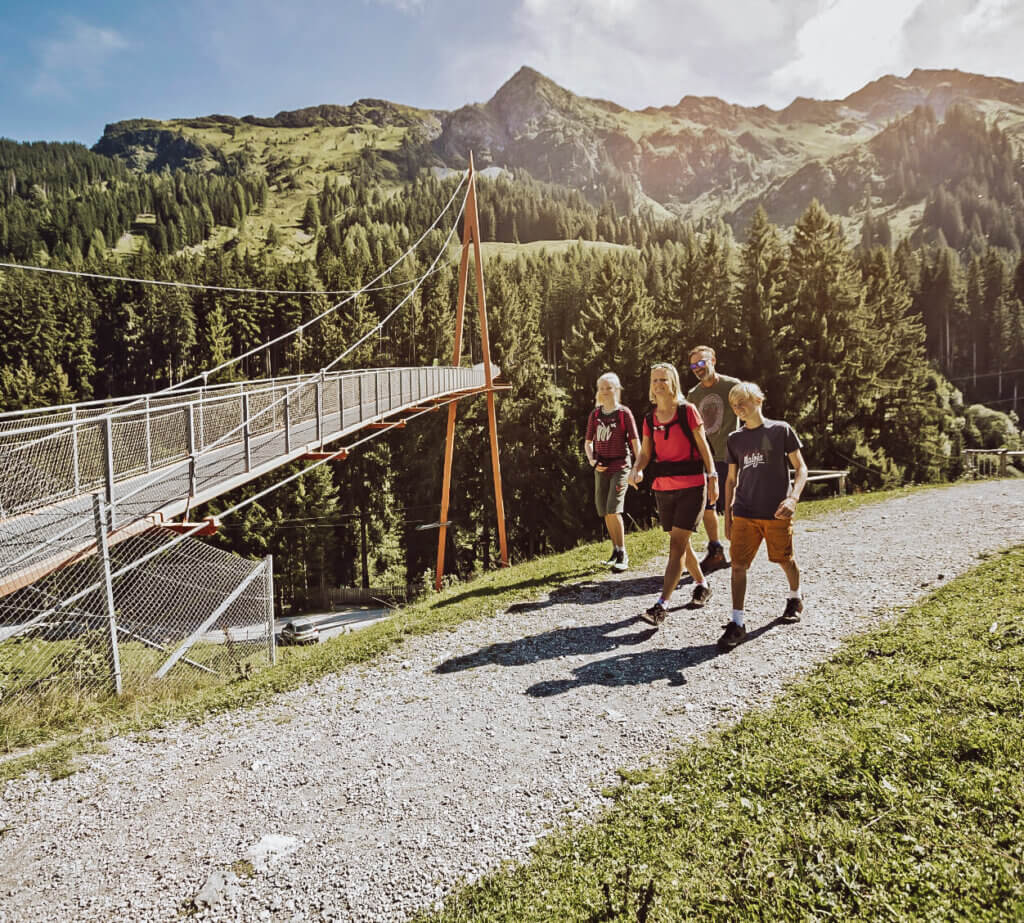 Glemmtal treetop trail with "Golden Gate Bridge"
The treetop trail made of solid larch wood is the highest of its kind in Europe – perfect for all those who like heights but with firm ground underfoot. The highlight is the "Golden Gate Bridge of the Alps" – a fantastic nature experience for every age group at a height of up to 40 metres. The low rope park at ground level is ideal for families with young children.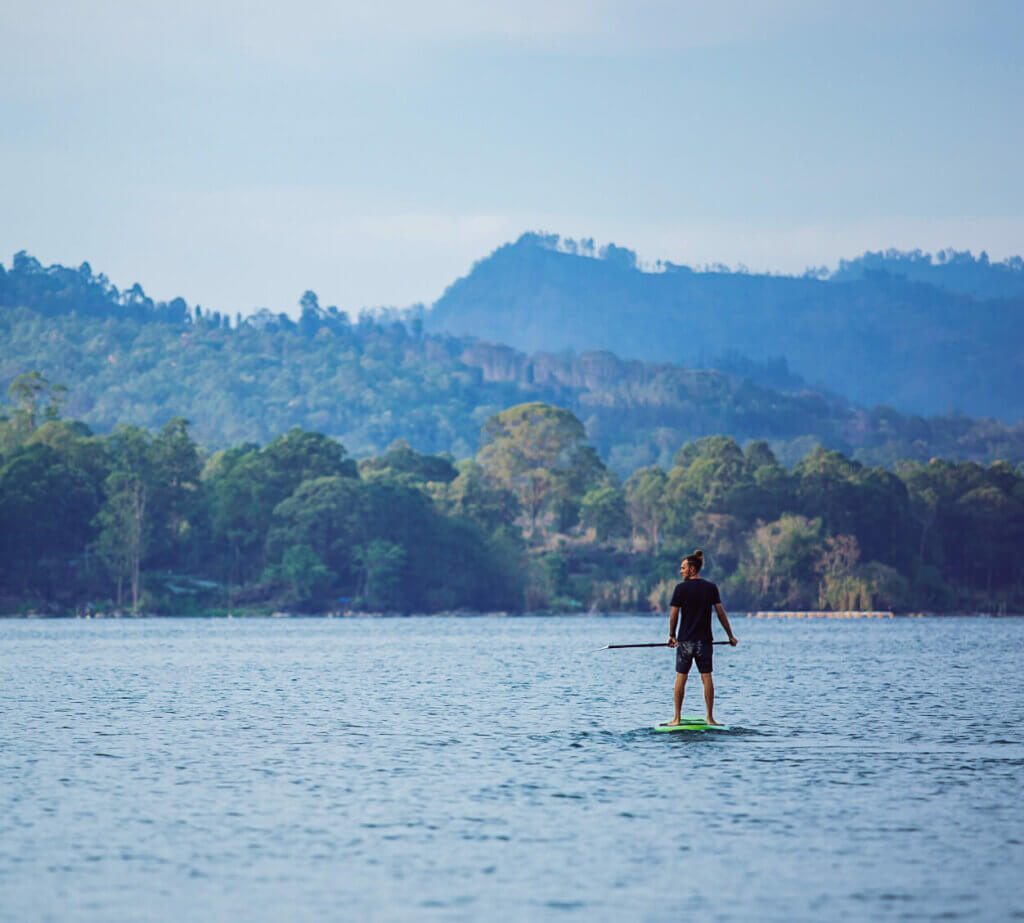 Water sports at Lake Zell
The bathing paradise of Lake Zell offers all kinds of fun, not only for kids but also for parents – from water sports to boat tours with a fantastic view of the surrounding alpine setting. The crystal-clear lake water not only invites you to go swimming but is also perfect for pedal boats, sailing, surfing and water-skiing.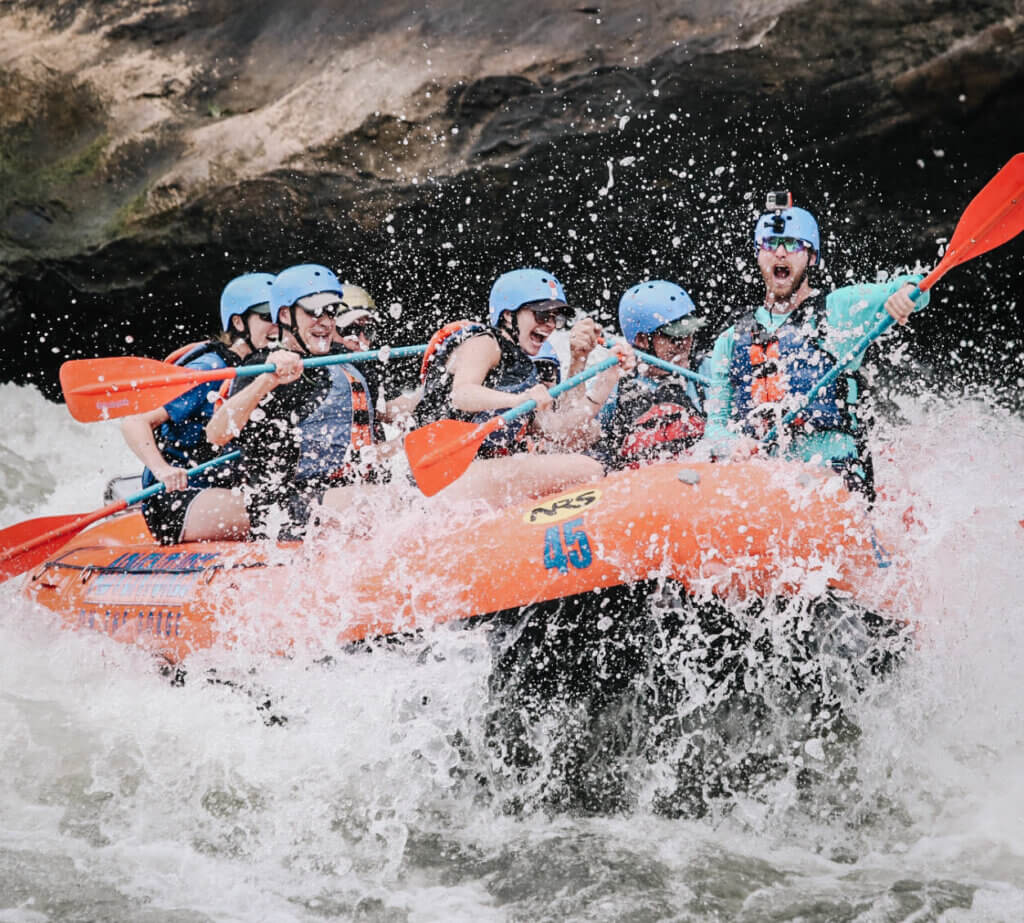 Whitewater Rafting
Steering the course is the name of the game when rafting in the thundering spray of the Saalach. That's not an easy feat in an inflatable boat. Tours for families with children from 12 years are also available.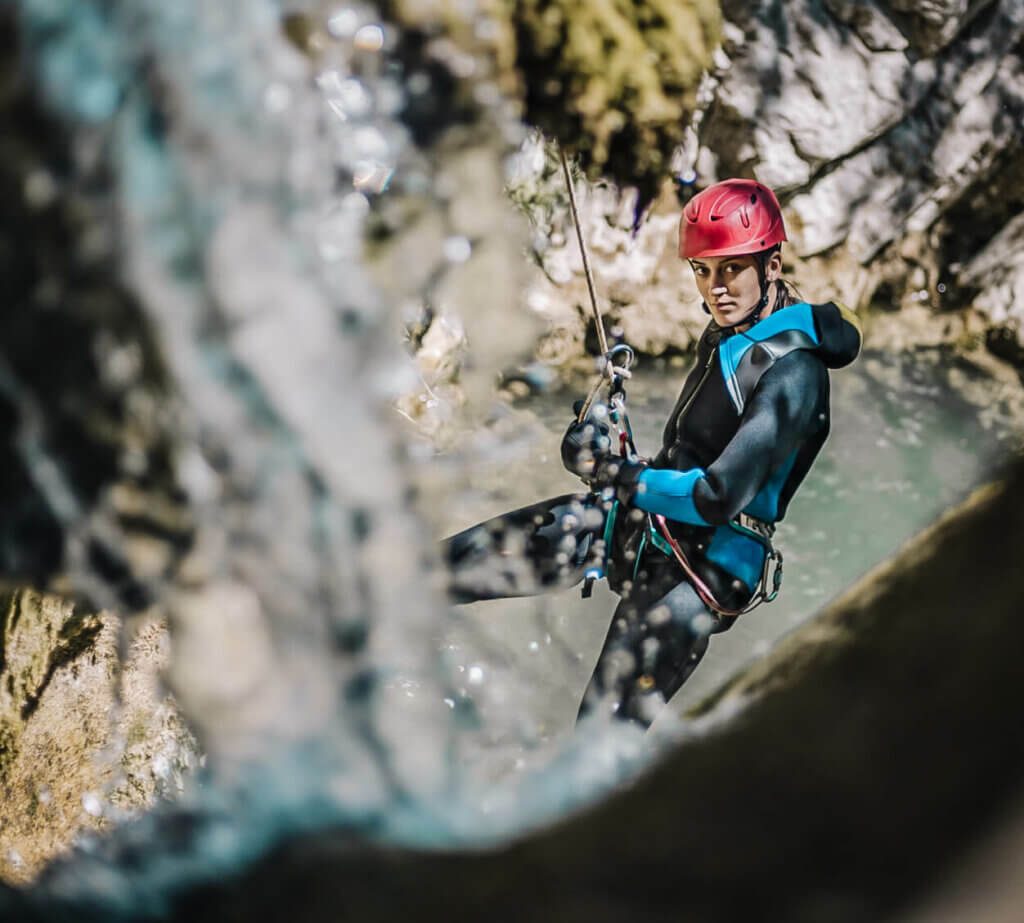 Canyoning
At the end of the Glemmtal valley, you'll find a unique canyoning route near the high rope park, which allows canyoning tours at varying levels of difficulty with a mix of jumps, slides, rope crossings and abseiling stretches. Well-secured and with an experienced guide by their side, small groups make their way through the canyons of the Saalach, which offer a particularly beautiful setting for canyoning tours with their turquoise water pools and cascade-like waterfalls.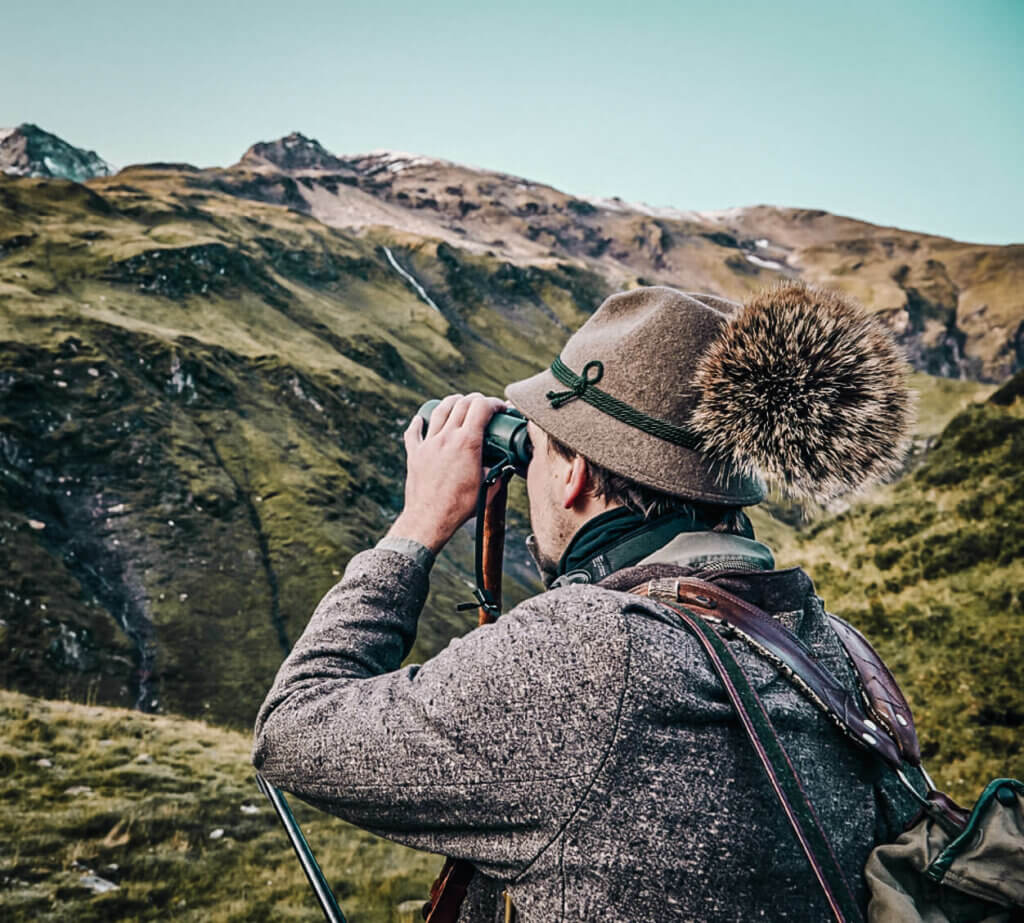 Wildlife watching
We offer wildlife watching activities two times a week as part of our summer programme in Saalbach. We travel with our guests to Thumersbach to the JBG in Thumersbach/Erlberg.